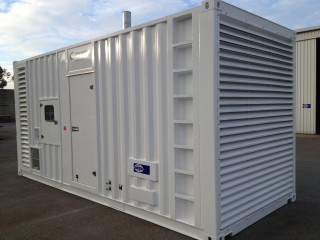 Containerized 450Kva
Friday, June 28, 2013
Genpower Australia has been involved with McConnell Dowell in replacing their rental 450Kva unit at Glenelg beach.
Genpower Australia in conjunction with McConnell Dowell have replaced their existing 500Kva rental unit. Genpower has successfully created a 450Kva prime powered 20ft containerized solution achieving exceptional sound attenuation. This unit will be residing on the beach at Glenelg within the Adelaide CBD and used as part of a beach sustainability project which will be ongoing. Some but not all of the features of this container boast the following...
Sound attenuation achieving 70db @ 1M
2 x side access/emergency egress doors with panic release
Fully bunded container floor to capture and maintain all internal fluids
Rear attenuated container doors for service and alternator access
Marine grade undercoat and paint
External stainless steel fittings
Internal box muffler
Externally flush mounted control panel within a weatherproof enclosure
P450P model FG Wilson generator
Internally mounted MCB
Genpower Australia looks forward to working with McConnell Dowell on future projects and thank them for their order.