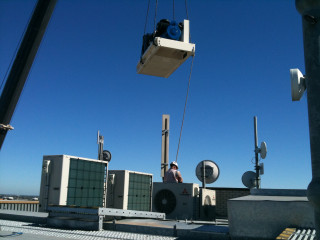 The sky's the limit!
Monday, October 17, 2011
Genpower has recently completed an installation at Primus Telecom within the Adelaide CBD. This installation was particularly interesting in that the rooftop opening, situated some ten stories high, was restricted to the dimensions of a 200Kva open set. The customer required a canopied, silenced unit within the plant room. FG Wilsons new "Lean 2B" genset line has the ability to disconnect the canopy with ease. Genpower disconnected and "flat packed" the canopy which was passed through the opening and fitted back on to the genset once inside the plantroom.This all happened like clockwork early on a Sunday morning.